Got News?
Have an idea for a presentation or demonstration?
If there is a meeting or other event that the NECPS will be participating in, or some other carnivorous plant related news item that you would like to share? Please forward the information to the
Webmaster
so that it can be included here.
Has your email address changed? Have you been missing our newsletter? You can update your email address or other contact information by visiting the Contact page.
Membership Dues are payable at or before the January meeting.
International Carnivorous Plant Society Conference 2018
August 3-5, 2018 with scheduled Field Trips August 7-10, 2018
Registration will start soon!
Hosted by the Bay Area Carnivorous Plant Society (BACPS), the oldest carnivorous plant society in the United States, in partnership with the world renowned carnivorous plant nursery California Carnivores.
North Carolina State Carnivorous Plant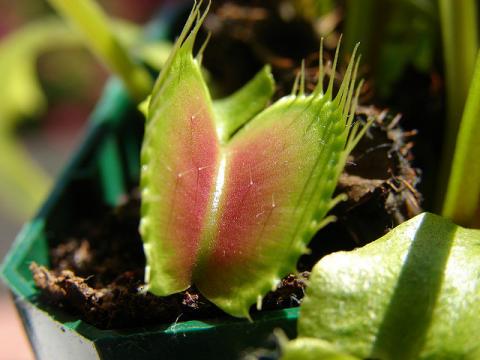 State Symbols USA:
North Carolina designated the Venus flytrap (
Dionaea muscipula
) as the official state carnivorous plant in 2005. Though the Venus flytrap is cultivated throughout the world, it is native to only a small area of the coastal plain in North and South Carolina (for the most part within a 75-mile radius around Wilmington).
The Venus flytrap faces a high risk of extinction in the wild. It's listed as Vulnerable on the Red List from the International Union for Conservation of Nature and Natural Resources (IUCN).
The trap is activated when an insect (or other object) brushes 2 or more times against bristles that grow on the surface of the leaf. The trap springs nearly shut in less than a second (it doesn't close completely until it determines - either chemically or through movement - whether it's caught a meal). If the plant determines that it has caught worthwhile food, the trap gradually seals completely shut, allowing digestion to take place. It reopens in 3 days to 2 weeks.
Carnivorous Plants, A Botanical Marvel
CosmicNovo:
Carnivorous plants, the dinosaurs of the plant world - in more way than one - are some of the most interesting plants on Earth. With almost 600 plants displaying the properties of carnivorous plants present around the globe, whilst that may seem like a large number, they are still considered somewhat of a rarity within the world of botany. Originally observed and studied by Charles Darwin in his manuscript Insectivorous Plants in 1875, carnivorous plants have a long history within the scientific community.
Carnivorous plants have five different basic trapping mechanisms: pitfall traps, where prey falls into a sac filled with digestive enzymes and bacteria; flypaper traps where they become stuck upon contact ; snap traps that use rapid leaf movement to catch them ; bladder traps using an internal vacuum-like to ingest its prey ; and lobster traps which force insects deeper into the plant.
Although these mechanisms are as deadly as they are diverse, they are only able to trap small insects as larger prey are often able to escape. There has been a lot of science-fiction depictions of large carnivorous plants eating an adventurer or unsuspecting passer-by, but they have been proven to have been just that, science-fiction. Carnivorous plants are relatively small, and although they are termed "carnivorous", the more suited term would be insectivorous.